End-to-End
Wholesale & Retail CBDC Platform

Wholesale CBDC Module
Digital Asset Management Module, for currency issuance and interbank transactions, reducing the settlement risk with domestic and international counterparties by leveraging a Distributed Ledger Technology (DLT).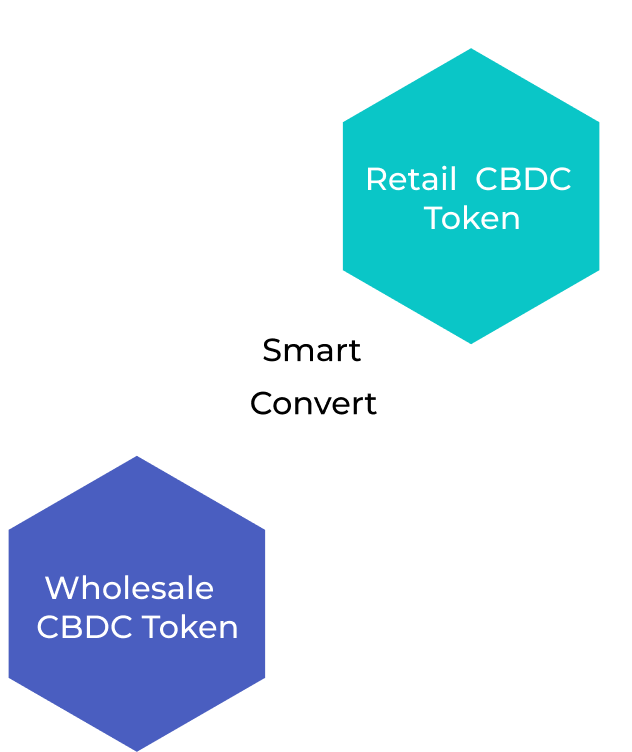 Retail CBDC Module
A retail CBDC, with cash-like attributes, such as high accessibility and high availability. A retail CBDC token that ensures privacy-preserving features, to enable trust and adoption by individuals and institutions alike.
How It Works
Discover our versatile CBDC platform designed to serve both central banks and the private sector, fostering financial inclusion through the use of Distributed Ledger Technology

Efficiency and transparency
Using decentralized ledger technologies (DLT) for payments is the future, enabling faster, cheaper, more secure, and highly available transactions, which are essential for both cross-border and domestic transfers. DLT offers broader access, reduces intermediaries, and increases transparency in financial activities. Central Bank Digital Currency (CBDC) is vital for making it work as a means of settlement in central bank money.

Tokenizing finance
The clear path in the world of finance leads to asset tokenization. By tokenizing real-world assets and financial instruments, participants benefit from an improved digital client experience, broader distribution, reduced credit risk, and cost-effective maintenance. Central banks must adapt to future developments with new infrastructure, where CBDC plays a core role in digital asset trading.

Protect monetary sovereignty
As the global economy becomes digital, there's a requirement to offer broader access to central bank money in a digital format. This preserves and enhances a central bank's control over the circulating money while equipping it with essential tools for executing monetary and fiscal policies, such as asset liquidity automation, subsidies, and a full audit trail.

Financial inclusivity
A sovereign CBDC ecosystem can offer an accessible, cost-effective digital alternative to existing payment services, facilitating broader participation in the digital economy, increasing access to banking services, and delivering welfare value.

Privacy and security
A CBDC offers the opportunity to provide safe, secure, and private access, with attributes similar to cash but in a digital format. This accelerates innovation, choice, and efficiency in retail payments, whether in close proximity or remotely, while also allowing for more efficient oversight and compliance with regulatory requirements.

Accelerate financial innovation
In the digital era, financial innovation entails the creation of interconnected settlement systems that link regional and global platforms. This integration serves to enhance the appeal of currencies from diverse economies in both the securities and FX markets.
A Joint Venture by SICPA & INX
Nabatech is a technology company developing a CBDC ecosystem to support monetary sovereignty in the rapidly evolving digital landscape.
Our long-standing relationships with sovereigns and regulators worldwide strengthen our mission in delivering an industry-leading platform using innovative technologies.
More about Nabatech
We'd love to hear from you, and
get in touch for a demo